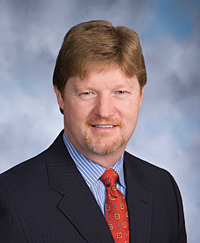 Ritchy G.
Scoggin, AIF®
Managing Director - Investments
Ritchy is entering his 18th year in the financial services industry. He is a Financial Advisor who holds the Accredited Investment Fiduciary designation.  He also holds the Series 7, 63, and 65 securities registrations and a General Lines Insurance License.
Ritchy graduated from New Mexico State University College of Engineering and started his career working for the Department of Defense. His most notable assignment was working on the Patriot Missile system during Desert Storm. Ritchy was named the Distinguished Graduate at the Patriot Defense Officer training during this portion of his career.
In 1998 he transitioned into the business world starting at Merrill Lynch. He then moved on to Legg Mason and became the hiring and training manager, while still managing his clients' investments. In 2003 he transitioned to UBS where he began working with Duane. Ritchy's engineering background and analytical skills helped him develop the investment process he uses today.
Ritchy has been married to his wife Julie for 30 years and they have 2 children, Zach and Kristen.